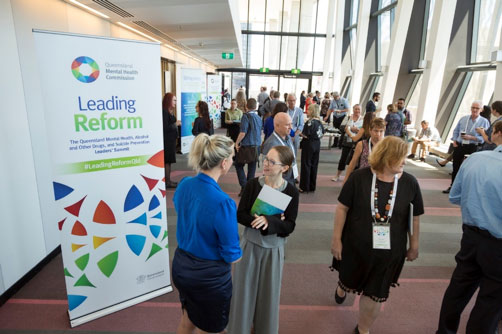 The Leading Reform Summit sets the agenda for ongoing reform of Queensland's mental health, alcohol and other drug and suicide prevention system.
A by-invitation event, the Summit is intended to be a catalyst to align leaders, introduce new evidence and strategies, fuel collaboration, harness the collective knowledge of sector leaders and drive the reform agenda forward.
The Summit not only shapes the direction of reform, it asks powerful questions of leaders about the solutions and the actions individual and collective leaders can take to drive system change.
We drive reform of the mental health and alcohol and other drugs systems in Queensland.
Our job is to encourage and facilitate change to improve the mental health and wellbeing of all Queenslanders as well as those with a lived experience of mental illness, problematic alcohol and other drug use, or suicide.
We identify issues and priorities, advise on reform options, support the efforts of others to implement change, and check progress.
The collective leadership of all stakeholders is essential to achieve reform and better outcomes for people who rely on the mental health and alcohol and other drugs system. That is why we engage with a broad range of stakeholders and work in partnership with others through events like the Leading Reform Summit.
We actively seek the views and experiences of people with a lived experience to help shape the reform agenda as well as decision-makers, funders, advocates, frontline workers and service providers, in both government, private and non-government sectors.
Our work extends beyond the health system and acknowledges the many needs and issues faced by those experiencing mental health difficulties and problematic AOD use. This includes areas such as housing, education and employment, justice and child safety.
Shifting minds is the Queensland Mental Health, Alcohol and Other Drugs Strategic Plan 2018-2023.
The plan is a five-year blueprint for reform of the mental health, alcohol and other drugs and suicide prevention system in Queensland.
It aims to deliver a system that is comprehensive, integrated and recovery-oriented by adopting a holistic approach that engages whole-of-person, whole-of-community and whole-of-government solutions.