2016 Performance survey
---
Full report

Download the 2016 stakeholder survey results report
Our Annual Stakeholder Survey took place in June 2016. It is the third survey to measure stakeholder satisfaction with our performance and effectiveness.
The survey provided both quantitative and qualitative information.
Your feedback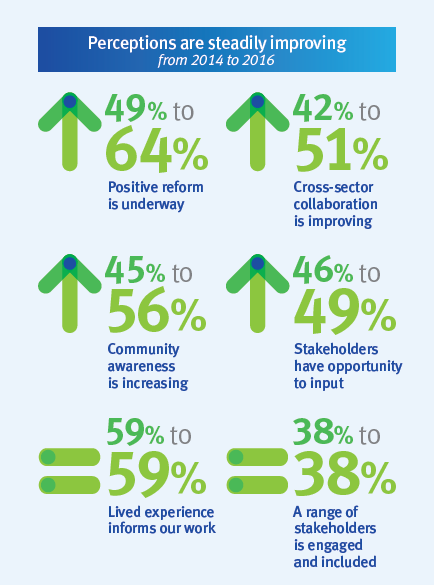 As useful as statistics can be, they do not truly reflect the themes that come through in comments. Many were positive. Others pointed to areas of concern and clarification about how the Commission goes about our work and priorities, such as:
More opportunities and deeper engagement with consumers, families and carers
Greater oversight of funding in public health services (we have now commenced a project to analyse funding and expenditure on mental health)
The need for greater focus on alcohol and other drugs, separate from its overlap with mental health
Increased focus on rural and remote Queensland, Aboriginal and Torres Strait Islander Queenslanders or those from culturally and linguistically diverse backgrounds.
Other comments highlight the challenge of interacting more with frontline staff which we will endeavour to address.
Some respondents made comments relating to increased independence of the Commission, a change of functions and appointment of a lived experience commissioner. These require legislative change and will be brought to the attention of Government during the review of our legislation.
Next survey
Our next survey is scheduled for early 2017. We are reviewing the format of our annual stakeholder survey and expect that the next one will be much shorter.

Last updated 20 February 2017
---