Improving the complaint system in Queensland, including how to navigate the healthcare complaint system and make your complaint matter, is important to ensure the services and treatments provided by mental health, alcohol and other drug services are of the highest quality.
Services can use feedback to measure their performance and improve.
Make a healthcare complaint
Our list of complaint agencies outlines the various agencies that investigate complaints as well as support agencies that may help you make your complaint.
There are fewer mental health complaints
A report by the former Health Quality and Complaints Commission on Mental Health Complaints noted that complaints about mental health services were only 5 per cent of total complaints, suggesting people may be less likely to lodge complaints about mental health services.
Our media release on mental health complaints indicates the level of complaints about mental health services are still relatively low, with communication between health staff, people with lived experience, their families and carers identified as one area for improvement.
Improving the healthcare complaints system
Stakeholders regularly provide feedback about how frustrating the process of making a complaint in Queensland can be, and the difficulty in finding the right complaint agency.
Steps we have taken to improve the complaint system:
Our Virtue of Complaint public forum in March 2016 helps demystify Queensland's complaint system by exploring mechanisms for complaint and asks how the complaint system can be more accessible. Watch video
As part of a 2016 Queensland Parliamentary inquiry, we identified key issues and suggested improvements to the health service complaints system in our submission to the Health Ombudsman inquiry.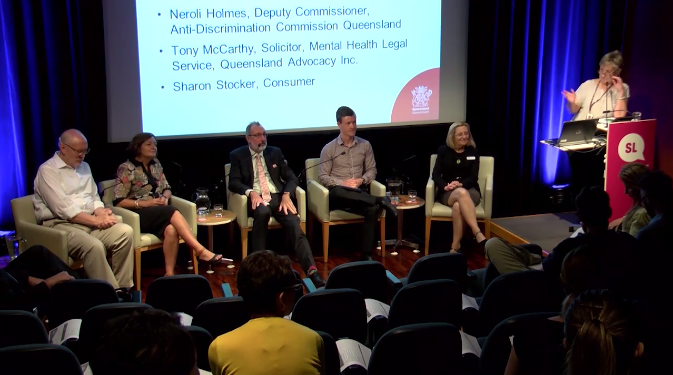 If you don't want to make a formal complaint about a mental health, alcohol and other drug service, you can provide public feedback on any Australian health service provider — good or bad —on the Care Opinion website.
How to make a complaint about a service
Sometimes consumers and clients, their families and supporters find the treatment or support services they receive may not be to a standard they expect. You have the right to express your concern or complaint and to have this heard and acted on.
Quick reference wallet card

Download the complaints wallet card or contact us for copies.
Complaint steps
Go direct
Talking to the service provider with whom you have a complaint is often the easiest and quickest way to resolve the problem. They won't know there is a problem unless you tell them.
 
Make it formal
If you do not want to talk about your concerns with local staff or you are not satisfied with their response, you can make a formal complaint to the service or facility management. Find information about how to make a formal complaint on their website or by asking staff.
 
Take further action
If you have made a formal complaint with a service or facility and are unsatisfied with their response, or you feel uncomfortable talking with the service or facility directly, you can take your complaint to an independent agency.

There are various independent complaint agencies in Queensland and across Australia that will listen to you and investigate your complaint about government departments, health services, community services, local councils and private organisations. Each agency has different roles and powers, so it is important you direct your concerns to the right one.
Complaint tips
Act quickly
Raise your complaint as soon as possible. The longer you wait the less clear the facts become and the harder it can be to find a solution. Time limits may apply.
Be clear, be prepared
Be clear about your concerns and the action you want taken.
Explain the order which things happened.
Include dates and times where possible.
Be prepared with copies of any letters or other documents you sent or received and notes from phone calls or meetings, and who you spoke to.
Get support
Get support from friends, family and other supporters. There are also agencies that can provide you with information, advice or support in relation to your complaint.