The Queensland Mental Health Commissioner
---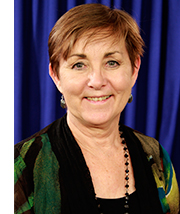 Dr Lesley van Schoubroeck was appointed on 1 July 2013 as Queensland's first Mental Health Commissioner.
Lesley's aim is to lead a Commission that brings together the wisdom that arises from life experience and professional expertise in order to drive reform to enhance the lives of people living with mental illness or substance misuse.
Prior to taking up her role as Commissioner, Dr van Schoubroeck was the Director of Organisational Reform in Western Australia's Mental Health Commission where she led system wide reform.
She also has extensive experience in the Western Australian public sector in education, training, child protection and justice as well as central agencies.
Lesley was born and raised on the Darling Downs in Queensland and taught mathematics and science there prior to moving to Western Australia. She completed her PhD at Griffith University in 2010.
Visit the Commissioner's Diary to find out more about Lesley's work.

Last updated 4 November 2014
---