A message from the Commissioner
The recent release of the discussion paper about the Mental Health Act 2000 review is an excellent opportunity for individuals and organisations to have their say.
Getting the right balance is difficult and these are complicated issues. For example, I have recently heard two very difficult perspectives from the community with regard to Justice Examination Orders (JEOs), an issue that I recently spoke to the Sunday Mail about.
We try and balance advice on what is the best outcome and how we get the best answer for Queensland.
The Commission is compiling some resources (see below) to help people interpret and consider the proposals in the discussion paper.
I want to thank those people who get in touch with me at the Commission about these issues and I would encourage them to put their comments about the proposals in the discussion paper to the Department of Health by 25 July 2014.
Until next time.
Lesley van Schoubroeck
Queensland Mental Health Commissioner
---
Have your say: Mental Health Act 2000 review
Submissions to the review are to be made by Friday, 25 July 2014. Details about how to make submissions are on the Queensland Health website.
The Commission is compiling some resources to help individuals and organisations who wish to make a submission to better understand the implications of the recommendations made in the discussion paper.
Useful resources
---
Department of Health reinvests $22 million in mental health funding
Queensland's Mental Health Commissioner Dr Lesley van Schoubroeck has congratulated the Department of Health on the recent reallocation of mental health funding to community managed organisations across the state.
"These announcements reflect a more inclusive and simplified approach following industry concerns about an earlier proposed process that did not take account of the realities of operating a community managed organisation," Dr van Schoubroeck said.
---
A visit to Theodore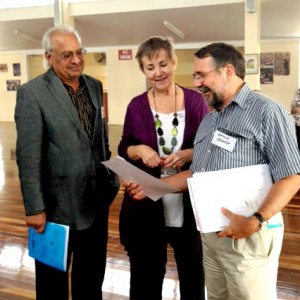 Dr Lesley van Schoubroeck visited the township of Theodore on Thursday 15 May.The visit was hosted by Dr Bruce Chater who chairs the Statewide Rural and Remote Clinical Network.
Dr van Schoubroeck was joined by consulting psychiatrist Associate Professor Mohan Gilhotra.
"We held discussions with local people and providers about mental health issues especially those related to rural isolated communities," she said.
"We have conducted a number of visits over the last few months, most recently to Charleville and Emerald. The trip to Theodore gave us additional local perspectives.
---
Schizophrenia Awareness Week
Dr Lesley van Schoubroeck joined Mornings with Steve Austin on ABC612 Brisbane to talk about stigma reduction and Schizophrenia Awareness Week in early May.
Dr van Schoubroeck was joined on air by Tony Stevenson, Chief Executive Officer from Mental Illness Fellowship QLD (MIFQ).
Click here to listen via ABC online
---
Queensland Mental Health and Drug Advisory Council
The meeting communique for the second meeting of the Advisory Council held on 14 May is now available on our website. The next meeting will be held on 21 July 2014.