Date
Thursday, 10th September 2020
Host
Australian Institute for Suicide Research and Prevention
Guest speakers
People with a lived experience of suicide; mental health academics, researchers and experts; representatives fro the QMHC
Venue
State Library Queensland and online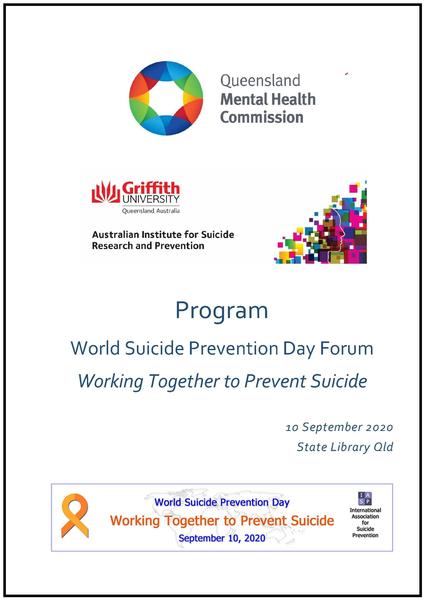 On 10 September, let's work together to prevent suicide. Join us on World Suicide Prevention Day for an in-person and online event featuring expert analysis and advice, international perspectives, and the launch of the Suicide in Queensland Annual Report 2020. This free event is hosted by the Australian Institute For Suicide Research and Prevention (AISRAP) and the Queensland Mental Health Commission (QMHC).
When: 10 September 2020, 9:45am for a 10am start.
Where: State Library Queensland, Auditorium 1, and online
Registrations and safety information: Due to COVID-19 and social distancing requirements, only a limited number of people will be able to attend in person. RSVP now to secure your ticket. The entire event will also be live-streamed, allowing guests to attend remotely.
Find more information about staying safe while visiting the library.
Program
World Suicide Prevention Day 2020 Event Program
10am: Welcome to Country, Vice-Chancellor's welcome and safety briefing
10:30am: International keynote speaker Professor Paul Yip from Hong Kong University
11am: Break on the SLQ terrace
11:30am: Panel event – COVID-19, suicide prevention, and looking to the future - Chaired by Queensland Mental Health Executive Director Bretine Curtis and featuring Professor David Crompton , Mental Health Alcohol and other Drugs Branch representative Janet Martin, lived-experience representative Rebecca Johnson, and Professor Ella Arensman
12:30pm: Suicide in Queensland Annual Report 2020 and presentation panel featuring AISRAP Principal Research Fellow Dr Kairi Kolves, Senior Research Assistant Dr Stuart Leske and Senior Research Assistant Mrs Mandy Gibson
1:15pm: Event close
Registrations will be updated if any changes to COVID-19 restrictions mean the event needs to be delivered solely online. Please do not attend this event in person if you're feeling unwell.
Suicide in Queensland Annual Report 2020
The Australian Institute for Suicide Research and Prevention (AISRAP) publishes the Queensland Suicide Register's annual report each year.
Read the Queensland Suicide Register Annual Report 2020 
View other events related to these topics: