Exhibiting artists of the 23rd Annual MIFQ, 'Journey Through My Mind,' Art Exhibition, would like to invite you to join them in an artistic exploration of living with a mental illness and help launch Schizophrenia Awareness Week 2014.
For 23 years, Queensland artists living with mental illness have challenged social stigma, showcasing incredible talent at MIFQ's Annual Art Exhibition in Brisbane's CBD.
From humble beginnings, over the past two decades the event has blossomed and now displays more than 300 artworks by 170 gifted artists.
From 10 – 15 May 2014, MIFQ's 23rd instalment, 'Journey through my Mind,' will captivate Brisbane with a show stopping exhibition curated by Lee Steer, owner of REDSEA Gallery.
MIFQ Chief Executive Officer, Tony Stevenson says, "The event aims to give marginalised artists a platform to showcase and sell their artwork."
"It strives to raise awareness of mental illness and its prevalence in the community, reduce stigma and stamp out misconceptions commonly associated with mental illness."
'Journey through my Mind' will open at 6:30pm on Friday 9 May 2014 with a Cocktail Party in King George Square. The event launches Schizophrenia Awareness Week 2014, which begins with various community events around Australia.
Schizophrenia Awareness Week is a national week which calls for action on the issues faced by people experiencing severe and persistent mental illness. It is estimated up to 600,000 Australians have a lived experience in mental illness and less than 50 per cent are accessing treatment.
"In Australia, people experiencing mental illness are one of the most economically and socially marginalised groups.
"The Art Exhibition provides an opportunity for people to be recognised for their talents and not their illness," Stevenson said.
Artwork prices range from $20 to $2,000 and exhibiting artists retain 90 per cent of the artwork proceeds. 'Journey through my Mind' will feature local artists, David Jones, Laurence Baird and Sandimay Knight, who's imaginative and thought provoking work for this Exhibition has been overseen by Lee Steer.
Entry into the week long event is by gold coin donation and is attended by more than 3,000 people
Click here for more information about Mental Illness Fellowship QLD
Featured artist - David Jones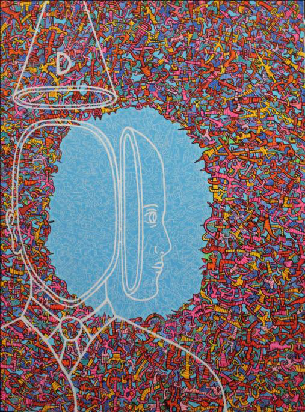 David Jones is a Brisbane based artist, who's multifaceted style enables him to convey a multitude of thoughts and ideas. His narrative concepts are social commentaries that elaborate on confronting and complex issues such as mental illness, social ostracism and substance abuse problems, to name a few. Some of the narratives packed into these intense compositions are more subtle than others, leaving the meanings open to individual interpretation.
David's fascination with art began as a child. Painting gave him the chance to express himself and feel less introverted growing up. Later in life, he realised that his work was not only a creative outlet for him, but was also a coping mechanism used for dealing with issues and problems.
Mental illness has affected David and members of his family on both sides. His father, a talented Graphic Designer and Draftsperson, suffered from manic depression and his Grandmother took her own life due to mental health issues. Self expression though art has given David the ability to deal with his own challenges, while at the same time, offering others a view inside the mind of someone living with mental illness.
David has studied Visual Art for a number of years. In this time he has achieved two Visual Art diplomas and a Bachelor of Fine Art degree from the Queensland College of Art, with a Double Major in Painting and Print Media.
Visual Art practice will always be a part of David's life and he one day hopes to impact his knowledge and passion to others.
Click here to visit David's Facebook page and find out more about his work.